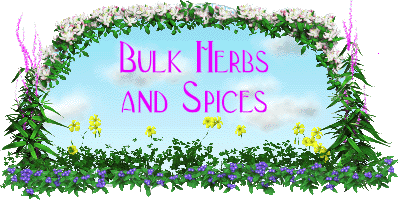 Our bulk herbs and spices are of the freshest and finest quality available, and we have been providing consistent quality to our customers for over 46 years.
Due to fluctuations in the herb and spice market, prices are subject to change without notice. Our price lists are tentative until confirmed with our current database at the time you order. We strive to make every effort to assist you in any way possible.We want your purchasing experience to be as effortless as possible, so that you enjoy buying from us as much as we enjoy selling to you!
The following listing of bulk herbs and spices provides all the various forms of processing, including Chips (chips), Chunks (chunks), Crushed (crush), Cut & Sifted (c/s), Granulated (gran), Powdered (pwd), Sliced (sliced) and Whole (whl).
Press the ADD button beneath the items you wish to order, and they will be placed in your shopping cart. Click VIEW in order to review all the items that you have already selected.

A B Ca-Ci Cl-Cz D E F G H I J K L M N O P Q R S T U V W Y

ACEROLA BERRY, Extract
(Maldighia glabra)
(pwd)
Origin: Brazil
1 oz. $1.75

2 oz. $3.25

4 oz. $6.00

8 oz. $13.00

1 lb. $22.50
















AGAR AGAR
(Gelidiella acerosa)
(pwd)
Origin: Japan
1 oz. $3.50

2oz. $6.75

4oz. $13.00

8 oz. $25.00

1 lb. $49.00
















AGRIMONY HERB
(Agrimonia eupatoria)
(c/s)
Origin: Bulgaria
1 oz. $1.00

2 oz. $1.90

4 oz. $3.65

8 oz. $7.00

1 lb. $13.75
















ALFALFA LEAVES
(Medicago sativa)
(c/s)
Origin: United States
1 oz. $1.00

2 oz. $1.90

4 oz. $3.65

8 oz. $7.00

1 lb. $13.75
















ALFALFA LEAVES
(Medicago sativa)
(pwd)
Origin: United States
1 oz. $1.00

2 oz. $1.90

4 oz. $3.65

8 oz. $7.00

1 lb. $13.75
















ALFALFA LEAVES
(Medicago sativa)
(c/s)
(Certified Organic)
Origin: United States
1 oz. $1.25

2 oz. $2.40

4 oz. $4.65

8 oz. $9.00

1 lb. $16.75
















ALFALFA LEAVES
(Medicago sativa)
(pwd)
(Certified Organic)
Origin: United States
1 oz. $1.25

2 oz. $2.40

4 oz. $4.65

8 oz. $9.00

1 lb. $16.75
















ALLSPICE
(Pimenta dioica)
(whl)
Origin: Guatemala
1 oz. $1.25

2 oz. $2.40

4 oz. $4.65

8 oz. $9.00

1 lb. $16.75
















ALLSPICE
(Pimenta dioica)
(pwd)
Origin: Guatemala
1 oz. $1.25

2 oz. $2.40

4 oz. $4.65

8 oz. $9.00

1 lb. $16.75
















ALLSPICE
(Pimenta dioica)
(c/s)
(Certified Organic)
Origin: Guatemala
1 oz. $1.50

2 oz. $2.90

4 oz. $5.75

8 oz. $10.75

1 lb. $20.50
















ALLSPICE
(Pimenta dioica)
(pwd)
(Certified Organic)
Origin: Guatemala
1 oz. $1.50

2 oz. $2.90

4 oz. $5.75

8 oz. $10.75

1 lb. $20.50
















ALOE
(Aloes vera)
(pwd)
Origin: South Africa
1 oz. $1.75

2 oz. $3.25

4 oz. $6.00

8 oz. $13.00

1 lb. $22.50
















ANGELICA ROOT
(Angelica archangelica)
(c/s)
(Wildcrafted)
Origin: Bulgaria
1 oz. $1.50

2 oz. $2.90

4 oz. $5.75

8 oz. $10.75

1 lb. $20.50
















ANGELICA ROOT
(Angelica archangelica)
(pwd)
(Wildcrafted)
Origin: Bulgaria
1 oz. $1.50

2 oz. $2.90

4 oz. $5.75

8 oz. $10.75

1 lb. $20.50
















ANGELICA ROOT
(Angelica archangelica)
(c/s)
(Certified Organic)
Origin: Bulgaria
1 oz. $1.75

2 oz. $3.25

4 oz. $6.00

8 oz. $13.00

1 lb. $22.50
















ANGELICA ROOT
(Angelica archangelica)
(pwd)
(Certified Organic)
Origin: Bulgaria
1 oz. $1.75

2 oz. $3.25

4 oz. $6.00

8 oz. $13.00

1 lb. $22.50
















ANISE SEED
(Pimpinella anisum)
(whl)
Origin: Turkey
1 oz. $1.00

2 oz. $1.90

4 oz. $3.65

8 oz. $7.00

1 lb. $13.75
















ANISE SEED
(Pimpinella anisum)
(pwd)
Origin: Turkey
1 oz. $1.00

2 oz. $1.90

4 oz. $3.65

8 oz. $7.00

1 lb. $13.75
















ANISE SEED
(Pimpinella anisum)
(whl)
(Certified Organic)
Origin: Egypt
1 oz. $1.50

2 oz. $2.90

4 oz. $5.75

8 oz. $10.75

1 lb. $20.50
















ANISE, STAR
(Illicium verum)
(whl)
Origin: China
1 oz. $1.00

2 oz. $1.90

4 oz. $3.65

8 oz. $7.00

1 lb. $13.75
















APPLE PECTIN
Origin: United States
1 oz. $2.75

2 oz. $5.00

4 oz. $9.50

8 oz. $18.50

1 lb. $36.50
















APPLE PIE SPICE BLEND
(Salt-Free)
Origin: United States
1 oz. $1.00

2 oz. $1.90

4 oz. $3.65

8 oz. $7.00

1 lb. $13.75
















ARNICA FLOWERS
(Arnica montana)
(whl)
Origin: Mexico
1 oz. $1.75

2 oz. $3.25

4 oz. $6.00

8 oz. $13.00

1 lb. $22.50
















ARROWROOT
(Maranta arundinacea)
(pwd)
Origin: Thailand
1 oz. $0.75

2 oz. $1.25

4 oz. $2.25

8 oz. $4.25

1 lb. $8.00
















ARTICHOKE LEAVES
(Cynara scolymus)
(c/s)
Origin: Italy
1 oz. $1.75

2 oz. $3.25

4 oz. $6.00

8 oz. $13.00

1 lb. $22.50
















ARTICHOKE LEAVES
(Cynara scolymus)
(pwd)
Origin: Italy
1 oz. $1.75

2 oz. $3.25

4 oz. $6.00

8 oz. $13.00

1 lb. $22.50
















ARTICHOKE LEAVES
(Cynara scolymus)
(c/s)
(Certified Organic)
Origin: Italy
1 oz. $1.75

2 oz. $3.25

4 oz. $6.00

8 oz. $13.00

1 lb. $22.50
















ASAFOETIDA GUM
(Ferula assa-foetida)
(pwd)
Origin: India
1 oz. $1.25

2 oz. $2.40

4 oz. $4.65

8 oz. $9.00

1 lb. $16.75
















ASHWAGANDA ROOT
(Withania somnifera)
(c/s)
Origin: India
1 oz. $1.75

2 oz. $3.25

4 oz. $6.00

8 oz. $13.00

1 lb. $22.50
















ASHWAGANDA ROOT
(Withania somnifera)
(pwd)
Origin: India
1 oz. $1.75

2 oz. $3.25

4 oz. $6.00

8 oz. $13.00

1 lb. $22.50
















ASTRAGALUS ROOT
(Astragalus membranaceus)
(pwd)
Origin: China
1 oz. $1.25

2 oz. $2.40

4 oz. $4.65

8 oz. $9.00

1 lb. $16.75
















ASTRAGALUS ROOT
(Astragalus membranaceus)
(sliced)
Origin: China
1 oz. $1.75

2 oz. $3.25

4 oz. $6.00

8 oz. $13.00

1 lb. $22.50
















ASTRAGALUS ROOT
(Astragalus membranaceus)
(pwd)
(Certified Organic)
Origin: China
1 oz. $1.25

2 oz. $2.40

4 oz. $4.65

8 oz. $9.00

1 lb. $16.75
















ATRACTYLODES ROOT
(Atractylodes marocephala)
(sliced)
Origin: China
1 oz. $2.75

2 oz. $5.00

4 oz. $9.50

8 oz. $18.50

1 lb. $36.50















A B Ca-Ci Cl-Cz D E F G H I J K L M N O P Q R S T U V W Y